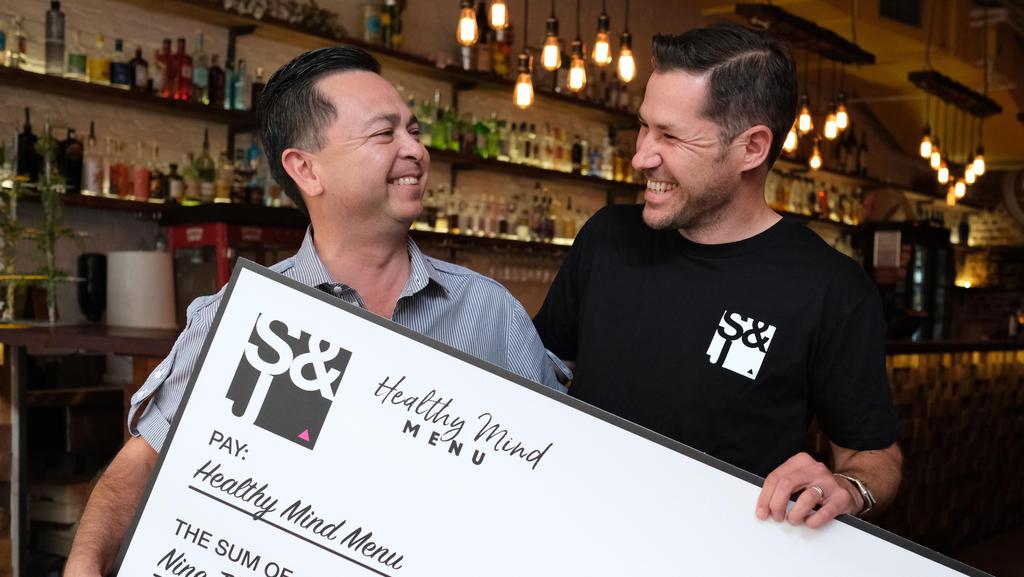 Mental health boost for hospo workers
WA Mental Health Week has come and gone and the hospitality sector's homegrown mental health initiative, Healthy Mind Menu, was the benefactor of an industry-wide fundraiser last week. A group of restaurateurs and chefs raised money with special Mental Health Week cocktails and meal offers, the proceeds of which will go to fund a new online workshops to give hospo staff the tools to recognise and deal with mental health issues at work.
The largest contributor to the cause was Andy Freeman's Sneakers & Jeans company, which owns and operates The Flour Factory, Varnish On King, Hadiqa, Goody Two's and Caballitos. They raised nearly $10,000 over the week. S&J general manager Lachlan Howarth, a passionate advocate for the cause and leader of S&J's wellness program, handed over a cheque this week to Healthy Mind Menu chairman and Perth businessman Wayne Teo.
"The festive season is traditionally a tough time for many," Howarth told Broadbrush. "It's the high-risk season especially with COVID lockdowns, meaning hospo workers are potentially even more isolated from family at this time of the year.
This year, 3000 Australians will die by suicide. One in five of them will be from the hospitality sector. It's a sobering thought. Isolating work practices, long, antisocial hours, drugs, alcohol and a traditional "she'll be right" attitude have all contributed to the epidemic of depression and suicide across WA's embattled hospitality sector.
Healthy Mind Menu is supported by the Australian Hotels Association and a who's who of the WA restaurant sector, including top chefs such as Paul Zammit, Stephen Clarke, Nic Wood, Chase Webber and Alain Fabregues.
Media statement sourced from: Rob Broadfield: Mental health boost for hospo workers