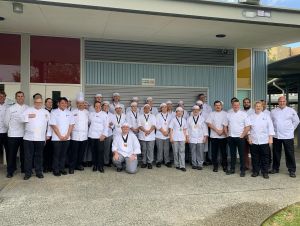 Congratulations to all of the healthy minds and creative talent at this year's Apprentice of the Year Awards, held at the North Metropolitan TAFE.
It was an absolute delight to join in the energy and see all the smiles. Mental health was put on the menu with our chairperson Wayne Teo introducing Healthy Mind Menu, followed by psychologist Chris Harris sharing knowledge, and our coordinator Paisley guiding the community towards helpful resources. We kept the momentum going, with Chris attending the South Metropolitan TAFE Orientation for Commercial Cookery, Patisserie, Hospitality & Events yesterday.
Keep an eye out for the HMM posters around your local TAFE campus and join our free online monthly support.
If you would like Mentally Healthy Hospitality posters for your venue/ campus please email Paisley at coordinator@healthymindmenu.org.au